LINK Train Temporary Closure -March 19th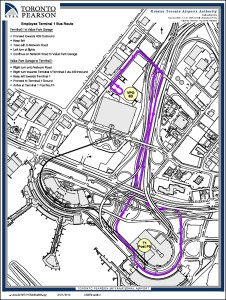 The LINK Train is scheduled to be out of service from March 19 to early October 31 to allow for construction of the Union Pearson Express (UP). During the closure, a bussing service will be provided.
There will be two bus routes for employees; one bus dedicated to transporting employees to Terminal 1 and another bus dedicated to transporting employees to Terminal 3. There will also be a separate inter-terminal bussing service to transport employees and guests between Terminals 1 and 3 only.
Various route options were researched and tested to ensure the routes selected would best serve Toronto Pearson employees. The bus routes have been designed to replicate the same level of service provided by the LINK Train, including:
A scheduled maximum wait time of 3.5 minutes during peak hours, and a maximum of 7 minutes for off-peak times.
Employee bus routes and pick-up/drop off locations will be separate from passenger bus routes and pick-up/drop off locations. This will help to ease congestion
http://www.torontopearson.com/en/link/#