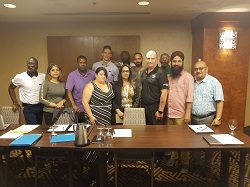 GVP Pickthall updates LL 2921 Executive on Airport Privatization
Mississauga, ON – IAM Canadian General Vice-President Stan Pickthall met with the Executive Board of IAM Local Lodge 2921 on July 20th to talk about Political Action and the issue of airport privatization that is looming over Canadian airports. [MORE]
Le VPG Pickthall tient les membres du comité exécutif de la section locale 2921 à jour à propos de la privatisation des aéroports
Mississauga, ON – Le vice-président général canadien de l'Association internationale des machinistes (AIM), Stan Pickthall, a rencontré les membres du comité exécutif de la section locale 2921 de l'AIM le 20 juillet afin de discuter de l'action politique et de la question de la privatisation des aéroports qui plane sur les aéroports canadiens. [SUITE]
---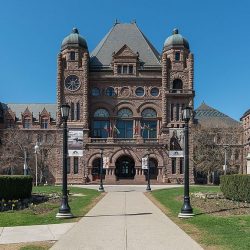 OFL makes final appeal to Ontario government on card check!
Toronto, ON – The Ontario government has wrapped up its public consultations on Bill 148 which will make major changes to labour standards in the province. Following public hearings in Thunder Bay, North Bay, Windsor, London and Kitchener-Waterloo, no fewer than 35 delegations made presentations to the Steering Committee on Finance and Economic Affairs at Queens Park. The IAM made its presentation in London earlier in the week.[MORE]
La FTO lance un dernier appel au gouvernement de l'Ontario concernant l'accréditation par vérification de cartes!
Toronto, ON – Le gouvernement de l'Ontario vient de clore ses consultations publiques sur le projet de loi 148, lequel apportera d'importantes modifications aux normes d'emploi dans la province. Au terme de consultations publiques tenues à Thunder Bay, North Bay, Windsor, London et Kitchener-Waterloo, pas moins de 35 délégations ont livré des présentations au Comité permanent des finances et des affaires économiques à Queens Park. L'AIM a livré sa présentation plus tôt cette semaine à London.[SUITE]