Notice of Election (DL 140 Convention Delegates) 17 December, 2020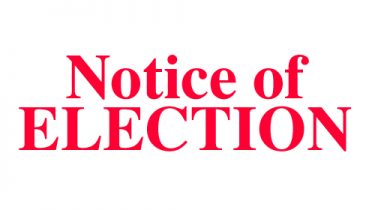 TORONTO SCREENERS LODGE 2921 I.A.M.A.W
Administrative Office
Thursday December 17th 2020
Notice of Election
22nd Annual Transportation District Lodge 140 Convention Delegates Election
Ottawa Ontario, April 26, 27 & 28, 2021
Dear Brothers & Sisters,
Due to the most recent COVID-19 social gathering restrictions from the Ministry of Health, the Transportation District Lodge 140 Convention Election details are as follows:
Drive-through election:
DATE: Wednesday, January 27, 2021
POLLS WILL BE OPEN: 10:00am – 18:00pm
LOCATION: Viscount Employee Parkade Level 1
Please note that there will be no access from the train
Please be advised that the following names will appear on the election ballot for the positions of Transportation District Lodge 140 Convention Delegates representing Local Lodge 2921. The following names will appear on the ballot. Members MUST ONLY ELECT SIX (6) of the following nominees:
2020 District 140 Delegate Nominees
(6 Delegates must be elected)

CATERINA BARONE
BINUMON JANARDNAN
YOSEF PERLMAN
PAUL BERRY
SARDAR KABIR
GLENVILLE REMY
AMANDEEP SINGH BUTTAR
DALJIT KALKAT
ALI REZA SAHABI
HARJINDER DHAMNAIT
SANJA LASICA
GURMEJ SINGH
SANDRO FILICE
TAYEB LHARTI
SORIN TARNOVEAN
YASEMIN GUIDO
RAJIV MOHAN
NOUREDDINE TARRABOU
HASSAN JAMA
DEBORAH MORRIS
YAMA TOKI
ZAHRA JAMA
LISSA NEVINS
VERONICA ZAVALA
The process for Absentee ballot will be as follows:
If you would like to request an absentee ballot, you can visit our website (screeners.iamaw.ca) and fill out the google form. Once the form is filled out and completed, the lodge will verify eligibility. If eligible, an absentee ballot will be mailed to the address submitted. The Criteria to qualify for an absentee ballot is below:
Members who:
(1) reside more than 40 Km (25 miles) from the designated nominating/balloting place set forth above;[1] or
(2) are at work during the times of the local lodge nominations or balloting; or
(3) are confined because of illness or injury including concerns related to voting in person due to Covid 19; or
(4) are on leave qualifying under family leave law; or
(5) are working members on vacation or retirees more than 40 Km (25 miles) away from their residence on election day; or
(6) are on official IAM business; or
(7) are on employer travel assignment; or
(8) are on military leave, may nominate, participate in the endorsement vote, or vote in the election by absentee ballot, upon request.
Absentee ballot requests will only be accepted until January 7, 2021 at 23:59.
Completed ballots must be returned via Canada Post no later than January 28, 2021. All ballots will be counted on January 29, 2020.
If you have any questions, please feel free to contact the undersigned at kaiken@iamaw.org
In Solidarity,
Keith Aiken
[1] Distance is determined by the closest Internet driving distance.