GARDA SCREENERS
IAMAW LL2921 SCREENERS IMPACTED
BY THE FEDERAL VACCINE MANDATE
ONLINE MEETING INFORMATION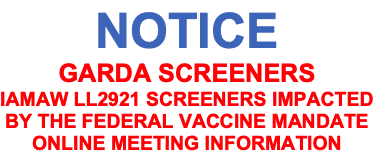 Dear Sisters and Brothers,
Local Lodge 2921 will be hosting an online information meeting for members of LL2921 that are impacted by the Federal Vaccine mandate.

The meeting will commence as follows via video conference: Thursday, January 20, 2022 @ 01:00 PM
This virtual meeting will be to offer LL2921 members the current information that pertains to the vaccine mandate and a short question and answer period.

To participate in this video conference, please email a request to tlharti@iam140.ca and a link will be sent to you prior to the call.

Please prepare your questions prior to the meeting and forward them to tlharti@iam140.ca

This special meeting will only be for those members that are out of the workplace because of the Federal Vaccine mandate.

Please let me know if you have any questions.

STAY STRONG WITH FIGHTING MACHINISTS!

In solidarity,
Tayeb Lharti
General Chairperson
Central Region
January 13, 2021